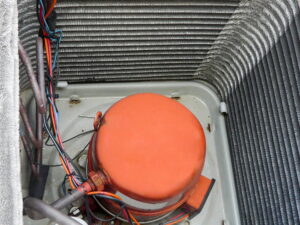 Your air compressor starts to kick the bucket, or so you think. Does it have some life left in it, or do you have to get an entirely new one? Can you fix a leaking AC compressor? Let's talk about that.
First of all: yes, you can fix a leaking compressor, but the long answer is a little more nuanced than that. Let's go over all the things you need to know about that air compressor repair before you throw money out the window.
Newer Compressor? Prioritize Repair Over Replacement
Air compressors, like any HVAC equipment, are subject to wear and tear over time. It's simply going to happen, it can't be avoided, so you might as well account for it ahead of time. Your air compressor isn't doomed if it breaks down once, though.
A newer air compressor can be repaired by a technician, and be as close to new as possible when it fires back up. There's a lot of misinformation out there about how fast you should replace an air compressor, so be sure to get a second opinion from a certified technician before you trust a Reddit forum post.
Depending on the level of damage (different levels of pressure can cause varying degrees of damage), it is possible to destroy a compressor beyond repair the first time around. It all comes down to usage, which is why there's no clear-cut answer: it's case by case.
Older Air Compressor? Replacement Is More Likely
Your air compressor held on strong, but now it's reaching the end of the rope. If it's the fifth repair call for this specific compressor, and it hasn't been that much time since the last repair, you're getting to a point where you'll pay more for repair than replacement if you keep it up.
There are certain levels of wear and tear that can be fixed, but not completely restored to "like new" conditions. This is because no matter how good a technician may be, they can't replicate the factory environment where the air compressor was made. Some wear and tear goes deep.
So It Depends?
Frequent repairs are indicative of an inevitable breakdown. Don't repair your air compressor to the point that you're throwing money out the window, but also don't go out and buy a brand new one at the drop of a hat. Let an HVAC technician find out if your air compressor is broken beyond repair, or if it still has years of life left in it with a quick fix.
Your Air Compressor isn't Doomed (Maybe)
Depending on how many repairs you've had and how worn down your air compressor is, it may still be able to be repaired, or it might be time to put it out to pasture. It all depends, and it's never clear until a technician gets a look at it. Let us help you find out what the next step is.
Contact First Choice Heating & Cooling today to schedule your air compressor repair as soon as possible and get your home back on track.