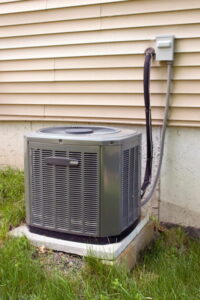 Go outside your house and look at the condenser cabinet for the central air conditioner. You'll notice that it's placed onto a concrete slab, rather than just set on the ground. This is because the condenser is a heavy object and it would start to sink right down into the ground if it wasn't put on a solid foundation. Laying down a concrete pad is a critical part of putting in the first AC for a new house.
That doesn't mean the concrete slab won't start to sink at some point! If you noticed during your trip to look at the condenser (and how often have you really looked at this critical part of your home comfort system?) that the unit appeared a bit uneven, then you may have a sinking condenser. 
No, the condenser isn't going to vanish into the ground. But an uneven condenser because of a sinking slab is still a problem that calls for air conditioning repair in Brighton, MI. Read on to learn more!