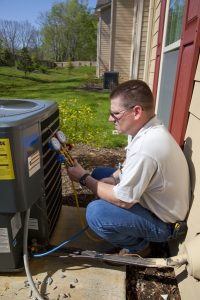 The best time of the year to make a major change to the HVAC systems responsible for your year-round comfort in your house is during the spring and the fall—i.e. the times of the year when you need to rely on the AC or heater the least.
It's already the second half of August, and even though the weather is still hot, the fall cooling is not far off. If this is the year to have your HVAC system updated with a new system installation in Fenton, MI, right now is a good time to start thinking about it. The earlier you plan for the job, the easier it will be to schedule it—and you'll have your new system ready to go in time for any changes in the weather.
But How Can I Tell My System Is Ready to Retire?
This is an excellent question. You don't want to spend money to put in a new AC or heater when the current one still has a few productive and energy-efficient years of life left in it. There are some ways you can tell, however, if you know what to watch for.
Noise levels: Has running the AC or heater in your house turned into serious noise pollution? Do you feel you have to apologize to visitors for it? "Sorry, that's just what the AC sounds like these days." This usually means a major problem with the system. It could be something a repair can fix, but if the noise level is louder in general it often indicates the mechanical parts of the system have worn down past the point where repairs will do much good.
Increased utility bills: It's a wise idea to always keep track of your energy bills from month to month and be able to compare them to bills from previous years. A steep increase in costs from one year to the next is a glaring red warning light that the system is decaying from age. If you've kept up with regular maintenance, you shouldn't see this level of efficiency decline—until the heater or AC is close to the end of the line.
Repairs are frequent: When repairing the AC or heater is a biannual tradition, you're paying too much to keep the system running. A good rule of thumb is that you shouldn't pay more than $500 a year to keep the HVAC system working. Also, any repair that costs half the price of a replacement means … go with the replacement.
General age: An AC or furnace that's more than 15 years old is probably ready to retire. Although it's possible for some comfort systems to last longer, this is the point where most will start to lose efficiency. For gas furnaces, it's also possible for the system to become hazardous because of the effects of corrosion along the heat exchanger. If you've had your HVAC system for 15 years or more, you've gotten your money's worth from it—and now it's time to start fresh with a more dependable and energy-efficient system.
To get started with finding out if you need to put in a new air conditioner or heater in the coming fall, arrange an appointment with us.
First Choice Heating & Cooling wants to help put in your new HVAC system. If your home had a voice… it would call First Choice!