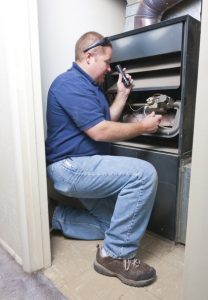 When we talk about regular heating maintenance, we often call it "fall heating maintenance." That's because this is the typical time when people arrange to have it done. Heating maintenance done during autumn has the advantage of giving homeowners time to arrange for any repairs the technicians may uncover during inspections and ensures the heater is in the best condition just before it will be needed the most. 
This, however, doesn't mean that once fall is over that maintenance has passed it's "expiration date." We need to emphasize this: There is no expiration date for professional heating maintenance. A residential heating system requires maintenance once a year, and doing it later is far, far better than skipping it. And it is especially true for a gas furnace.
In short: No, it's not too late to have maintenance for your furnace in Brighton, MI.
Safety Is an Essential Concern
There are many reasons why annual furnace maintenance is important even if done after the standard fall date. But none is more critical than safety—a gas furnace must have inspections each year to ensure that potential safety hazards are caught early and corrected. 
Gas furnaces are not inherently dangerous; there is no way they would be allowed in millions of homes across the country if this were the case. But they can pose dangers due to neglect, and maintenance is the best way to stop the deterioration of a gas furnace that can lead to problems. Maintenance technicians inspect the gas lines, gas valves, and heat exchanger and test the gas pressure. They check the safety features. If they find anything concerning, they'll alert the homeowner to give them time to have repairs made, or in some cases have an older furnace replaced. 
Keep the Warranty Current
The warranty on your furnace may be voided without annual maintenance. It doesn't matter when the maintenance is done, as long as it receives it once a year. You don't want this protection to lapse, so this is definitely a "better late than never" situation.
Annual Maintenance Helps in Other Important Ways
Although your furnace has already run for a few weeks without the benefits of maintenance, there are still many weeks of cold weather ahead. Keep that in mind when you look at the other benefits of keeping up with maintenance:
The furnace will run with better energy efficiency, keeping your bills from unnecessarily rising.

Maintenance helps prevent breakdowns, keeping your home protected from a sudden deep freeze in the coming weeks.

The lifespan of the furnace will be longer with regular maintenance. 

Maintenance will head off potential repairs, since the majority of repairs a heating system may need can be prevented with routine inspections. 
Sign Up for Maintenance With Us
We handle all the services your furnace may need, and that includes thorough maintenance. You only need to call us today and we'll get you on the schedule for the next convenient appointment. 
First Choice Heating & Cooling serves Fenton, Linden, Holly, and the surrounding areas. If your home had a voice … it would call First Choice!