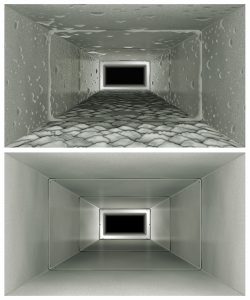 Having the ducts of your home cleaned isn't a task you probably have on a regular "to-do" list the same way you have heating and air conditioning maintenance. This is because duct cleaning isn't something homes need done every year. In general, we recommend duct cleaning on a schedule of every 3 to 5 years or as needed.
The "as needed" part is what we wish to discuss here. Ductwork can become so choked with dust, lint, and other debris that it will end up affecting the HVAC system in multiple ways. Because you can't easily see the interior of the ductwork, you may not know you've got a problem at first. We've put together a list of indicators that you're due for duct cleaning.
It's been five years since your last duct cleaning
Just a friendly reminder that you shouldn't go more than five years without scheduling duct cleaning, no matter what other signs you notice. Half a decade is plenty of time for excess dust to collect along the air passage walls and make the HVAC system's job more difficult.
Heating and cooling bills are rising
When the cost to heat and cool your house with a forced-air system (air conditioner, furnace, heat pump) starts to get more expensive without an obvious reason, one possible source is dirty ductwork. It only takes a thin layer of dust to start to create wind-resistance through the ducts, and this reduces HVAC system efficiency. Having the ducts cleaned gives the HVAC system a fresh start with its original efficiency.
Unpleasant odors from the vents
Ducts are spots where mold and mildew can easily develop—and a build-up of lint and other debris makes it even easier for these organic growths to start. When you notice moldy, musty, dank odors coming from the vents, it's time to have ventilation experts take a look into it.
The house is constantly dusty
A major problem with clogged up ducts is that each time the blower fan turns on, a reservoir of this dust and other particles are blasted out into the air to circulate through the house back into the HVAC system. The ducts become a collecting spot for dust that just keeps growing. Cleaning the ducts takes away this reservoir of air and house contamination.
You see evidence from a visual inspection
Yes, you can do a visual inspection of the inside of the ducts. Unscrew one of the registers from the vents, then reach down into the vent with a digital camera or phone that has a camera. Take a picture with a flash. If the image shows you something that looks like a car filter in need of a change, then you have ductwork in need of a cleaning.
Only a Howell, MI, HVAC professional is qualified and equipped to perform duct cleaning. You can rely on our experts to see you have the service necessary for clean and efficient ducts.
First Choice Heating & Cooling serves Fenton, Linden, Holly, and the Surrounding Areas. If your home had a voice … it would call First Choice!