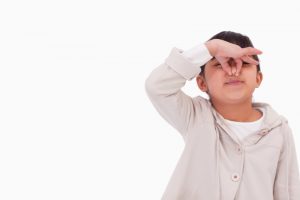 We've talked before about the warning signs you need to schedule AC repair in Howell, MI. Your air conditioner gives off different signals when it's malfunctioning, and strange sounds are the most common.
But strange odors are also a common cautionary sign—and they are also hard to ignore. When these strange odors come from the vents of your central air conditioning system, here's what they might mean:
1. Dirty Socks
This is a common enough problem that it has its own name: dirty sock syndrome. An on-the-nose name, but accurate as anyone who has experienced it can tell you. The odor of sweaty socks in a laundry hamper is unpleasant, and it means you have mold in the AC, probably along the evaporator coil, which is often a damp and easy place for mold to start. You need professionals to clean off the mold before it affects the AC's cooling ability and to prevent dangerous black mold from developing.
2. Combustion Gas Fumes
This may sound weird—after all, your air conditioner doesn't run on combustible gas like a vehicle does. But you may encounter this exhaust odor from the AC anyway. What you're smelling isn't from gas fumes, but water dripping onto heated motor parts of the AC. There's a condensate leak (or possibly a leak from somewhere else in the house) that needs to be fixed right away before the motors are damaged.
3. Acrid Burning
I.e. "electric burning." This sharp burning odor is a red flag of a motor that's burning out. The smell is from the melting wire casings. But it could also be other electrical problems creating this smell, and there is a danger of an electrical fire. Shut off the AC right away at the circuit breaker and call for repairs—you don't want to risk your household safety.
4. Rotten Eggs
You can probably already guess what this is—a natural gas leak. Although natural gas is odorless on its own, manufacturers put a chemical into it called mercaptan to create this odor as a warning. If it's coming from the vents, it means the leak is close enough to the AC to get inside the ductwork. Shut off the gas to the house and call the utility company. You may eventually need AC work as well.
5. Sour Trash Smell
This … is probably not something wrong with the air conditioner. You probably have a dead animal trapped in the ductwork. You can call HVAC technicians to access the ducts, and you may also need to get in contact with animal control. We don't recommend you go hunting around for the carcass yourself.
In fact, don't attempt to hunt out the source of any of these odors, because you won't be able to fix the cause of the problem. Attempting to fix it may make it worse—and in the case of a gas line, amateur tampering is illegal in most jurisdictions. Call the appropriate team: we're here to get your AC in great shape again.
If your home had a voice … it would call First Choice! First Choice Heating & Cooling is ready to help your AC make it through the summer.