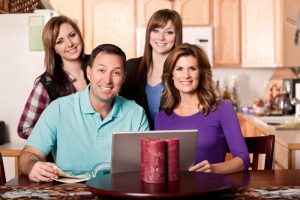 A pre-summer air conditioning tune-up in Brighton, MI is one of the best things a local homeowner can do for their comfort during the middle of the year. We've written before about the numerous benefits of scheduling regular AC tune-ups. And they are numerous: lower operating costs, fewer repair needs, sudden breakdown prevention, an extended service life, and all-around peace of mind.
But there's even more to talk about. Below we've listed a few benefits of having routine air conditioning tune-ups from professionals that you may not have known about.
Better Indoor Air Quality
Poor indoor air quality is a consistent problem in modern homes. There are services to help improve it, such as installing filters and purifiers. But regular air conditioning maintenance is a key part of better IAQ. An air conditioning system that's neglected will pick up dust and dirt in its components that it will then circulate through the house. A professional deep cleaning eliminates this hidden source of contaminants.
Less Humid Conditions
Air conditioners are not dehumidifiers (unless they were designed specifically as AC-dehumidifier combos). But they do have some humidification properties, since evaporating refrigerant in the indoor coil draws moisture out of the air along with the heat. An air conditioner that isn't maintained will soon develop dirt along the coil. This lowers cooling capacity, but it also leaves extra moisture in the air and results in a home with higher humidity.
Keep the Warranty Current
Here's a vital fact that many people don't know: the manufacturer's warranty on an air conditioning system usually requires that the system have regular professional maintenance. Otherwise the warranty isn't valid. Most warranties cover a 10-year period and pay for any repairs or replacements necessary because of a factory fault with the equipment. Since around two percent of central air conditioning systems leave the factory with some type of fault, the warranty can save a home hundreds of dollars if something goes wrong with its AC. You don't want to lose this coverage for your cooling system—and maintenance will keep it in force.
Improved Safety
Yes, an air conditioning system can turn into a safety hazard if it isn't regularly maintained. Although uncommon, air conditioners may suffer from electrical problems that lead to fires. With maintenance, you'll almost never have to worry about AC electrical dangers.
Special Benefits We Offer
There are also air conditioning tune-up benefits that come not from the service our technicians provide to your AC, but which they offer directly to you. When you sign up for our "automatic maintenance" program, we'll give you a 15% discount off any repairs you need while you're a member. We'll also contact you each time your home is due for AC maintenance so you won't have to worry about forgetting it. The pricing is also a bargain: you pay less for maintenance than you would if you paid individually for each tune-up. Finally, you can sign up for both air conditioning and heating maintenance each year. We'll take care of your comfort in all seasons.
Talk to the team at First Choice Heating & Cooling to schedule AC maintenance before the summer heat. If you home had a voice, it would call … First Choice!