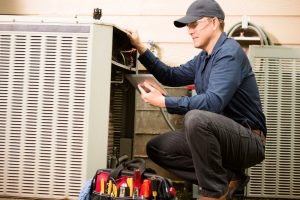 At last we're starting to enjoy warmer weather that says spring is really here, and summer is approaching right behind it. The lingering cold weather may have put your air conditioning system out of your mind, and we can't blame you for not giving must consideration to cooling your house.
But now it's time to focus on the coming warm weather and ensuring your AC can do the best job through the middle of the year, and without you needing to call for repairs.
But there's no way to prevent repairs 100%, right?
That's right, there can never be any guarantee for any mechanical device to work without any faults. But you can prevent the majority of problems with planning and proper care. When it comes to your air conditioning system, planning and care means arranging for maintenance (a tune-up and inspection) from qualified HVAC professionals.
Is there a way I can do the maintenance myself?
Not if you want results! This isn't a spring cleaning job where you dust off the AC. Doing the work involved in tuning-up and air conditioner and inspecting its vital parts to locate problems requires years of specialized training in refrigeration equipment. (Yes, a central AC is a type of refrigeration system, and works in a similar way to your kitchen refrigerator.) The work also needs particular tools that you simply can't purchase on your own or operate without that same refrigeration training.
However, there are few tasks you can do yourself to help out: change out the air filter (which you'll need to do a few times a year), make sure all air vents are open and unblocked, and clear out any debris that may be around the outside cabinet. The rest is for the HVAC technicians to handle.
How does the technicians' work stop future repairs?
In many ways! In fact, almost everything done during maintenance helps toward stopping AC malfunctions. The basic cleaning that removes dirt significantly reduces the strain on the system components that can cause repair issues. Lubricating the motors does a similar job. The inspection part of maintenance searches out places where small problems are developing so they can be fixed early. Most small repair jobs the AC may need can be fixed on the spot just as part maintenance.
Are there any other benefits to regular maintenance!
There are—so—many! You won't just prevent repairs for your AC, you'll prevent it from breaking down years before it's time. Regular maintenance can double the lifespan of a cooling system. It also keeps your electrical bills during the summer from getting out of control: with all the AC's parts in top shape, it won't drain extra power to run. Best of all, you'll have peace of mind that the air conditioner will sail through the season without creating an interruption to your comfort.
Should you still need air conditioning repair in Howell, MI over the summer, you can trust to our technicians to handle the work with the same skill and thoroughness that they handle maintenance. But if you haven't scheduled maintenance service yet, call us as soon as possible.
First Choice Heating & Cooling serves Fenton, Linden, Holly, and the surrounding areas: If Your Home Had a Voice, It Would Call First Choice!