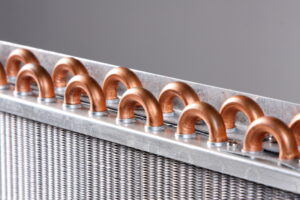 October usually means we a break from the heat (although there are always those sudden turns—you can't take cooler weather for granted until it's truly winter!). As you get ready for the change in seasons to settle in, it's a good time to evaluate the performance of your air conditioning in Howell, MI during the previous summer. You can use this evaluation to help make choices about your HVAC system's future. The big question is whether you think your AC is prepared to keep going next year. If it's ready to be replaced, then taking care of it during the calmer conditions of fall is ideal.
No matter if you need your air conditioning system repaired or replaced, we're the trustworthy team for the job. We have almost 20 years of history making homes happy!
Give Your Air Conditioner a Grade for Its Summer Performance
Here's a basic way to focus on how well your air conditioner did over the summer: give it a report card! Take a moment to consider the summer, then give your AC an overall grade from "A" to "F." Use the guidelines below to see how to proceed:
"A" – If you were able to award your air conditioner with a solid 4.0, we're willing to wager that you had it maintained in spring. This is the best way to help an air conditioner through the season with few if any problems. You'll probably have this air conditioner around for a couple more years, but please don't lapse with spring maintenance.
"B" – Pretty good! Not the best, but you didn't have a rough summer. However, what held you back from giving the AC the top grade? It's probably giving you an early warning it needs repairs, or that it missed out on maintenance. If you think the AC is starting to lose its cooling capacity, have technicians inspect it and see what's wrong. Hopefully, it's something we can repair so the system will keep running for many more years.
"C" – This is getting into uncertain territory, a zone where you may start to consider getting a new air conditioner. If the AC is still under 10 years old, poor performance is a warning to call for repairs (and yes, even if it's fall, please make the repair call promptly). If older than 10 years, a replacement is more likely. If you gave the cooling system a "C" because you had to repair it, take a look at how often you've needed to schedule repairs. If it's an annual event, the air conditioner is costing you too much to keep around.
"D" – Ouch! Did the air conditioner break down at some point over the summer, and you had to pay a high repair bill to get it working again? Is it simply not keeping the house cool enough? Do you worry that you can't rely on it? Is it so old you're concerned it will fail next summer? These are serious concerns, and the air conditioner is probably due to be replaced.
"F" – Our phone number is at the top of the page. Call us so we can replace your dead air conditioner.
At First Choice Heating & Cooling, we make your home happy. That's why our motto is: "If your home had a voice … it would call First Choice!"