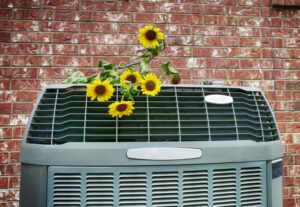 The fall brings relief from the heat and a time to prepare for the cold of the winter. It's when our technicians get busy taking care of the heating system maintenance our customers need to make sure their home's heater is in the right shape for problem-free comfort through the end of the year and the beginning of the next. 
It's also the season when homeowners still need to be aware of when they need air conditioning repair in Brighton, MI. It's far too easy to brush off any lingering AC problem when the weather is close to making a hard right turn into colder temperatures. But please don't ignore any air conditioning trouble you notice during this time. You don't want any repairs left undone before you shut down your air conditioner for its hibernation period.
Why you still need to be vigilant about air conditioning repairs
"What's the big deal? Can't it wait?" We'd argue that this is never a good idea for just about anything in your life. Procrastination may work, but usually only by accident. It's otherwise a formula for big problems, and letting air conditioning malfunctions go without fixing them is no exception. Here are some of the reasons prompt AC repairs are still important in the fall:
Protect the system's service life:

Any malfunction in an air conditioner places strain on the system it wasn't built to tolerate. This strain will place extra wear on other parts of the air conditioner that will add up to months or years taken off its service life. The same way you wouldn't want to run a car's engine on low oil, since it might kill the engine early, you don't want an AC to operate, even for a short time, with a fixable malfunction.
Prevent energy waste:

A malfunctioning air conditioner will drain more power when it runs. You'll waste money during the last few weeks when you need the AC and raise up your bills.
A neglected repair often worsens:

If you leave a repair problem to sit through the winter, it may be bigger when you try to start the AC in the spring. You'll be stuck with a failed air conditioner right when you need it the most, and the repair will likely cost you more than it would have if you caught it early.
It may affect the heating system:

If you have a standard HVAC setup, it consists of an air conditioner and furnace (either gas or electric) inside the same cabinet with a single air handler for both of them. A problem in the air handler is a problem for the heating system as well, and ignoring it will mean you may end up with no heat during the winter. Other AC problems may also affect the heater, such as condensate leaks that fall down on the furnace and damage it. 
If you are planning to schedule heating maintenance soon (good for you) then ask to schedule a repair for the AC at the same time. It's that easy with us!
First Choice Heating & Cooling serves Fenton, Linden, Holly, and the surrounding areas. If your home had a voice … it would call First Choice!