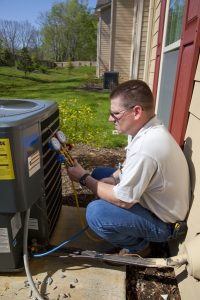 Yes, we know the weather outside is still cold enough for your house to need its heater running regularly. It may seem weird to start considering your air conditioner at this time, but March is the ideal month to plan for the coming change in seasons.
Spring is the period between peak business times for HVAC experts: the cold of winter and the heat of summer. As our schedules become less packed with emergency heating repairs and heating replacements, we can spend more time helping our valued customers get ready for warmer weather. You only have to call us to arrange for air conditioning maintenance in Howell, MI and we'll get you on the schedule right away.  
Do I really need to have AC maintenance this year?
Yes! Maintenance isn't an "every other year" job, or a "whenever you remember it" job. It's an annual requirement for an air conditioner to work in peak condition with a limited chance of suffering from malfunctions, a full system breakdown, or expensive operation. Maintenance also extends the system's service life and ensures its manufacturer's warranty remains in force.
This last point is especially important, since the warranty protects you from having to pay for AC repairs that are the fault of the manufacturer. If the compressor fails after only a few years because of a factory flaw, the warranty will pay to replace it. Otherwise, you'd be stuck with a replacement cost steep enough that replacing the AC might be a better option.
What happens during AC maintenance?
Quite a lot, but you'll be surprised at how fast the work goes. Our technicians know their stuff, and they'll have a thorough job completed in a short time. Usually around an hour.
Maintenance for an air conditioner has two parts: inspections and tune-ups.
Inspections look for places where the air conditioner has trouble or excess wear that you haven't noticed yet. The purpose is to identify areas that need professional attention, either during maintenance (such as cleaning) or as a scheduled repair (motor replacement). The technician inspects all moving parts and electrical connections, and makes tests on airflow, thermostat readings, and refrigerant pressure. The refrigerant check is one of the most important inspections, since a drop in pressure indicates refrigerant leaking from the system somewhere. This needs to be corrected ASAP or it will lead to catastrophic damage down the line.
The tune-up part of maintenance handles routine cleanings and adjustments to ensure the best AC performance. The technician will lubricate parts that need it, clean off the indoor and outdoor coil, tighten electrical connections, and change the air filter for a fresh one. (If you are unfamiliar with air filter changes, ask the technician to show you this part, since you must take care of it yourself during the rest of the summer.)
Call our offices today to ask about our Automatic Maintenance Program. This program makes regular HVAC maintenance for both heating and air conditioning easy.
If your home had a voice … it would call First Choice! First Choice Heating & Cooling serves Fenton, Linden, Holly, and the Surrounding Areas.