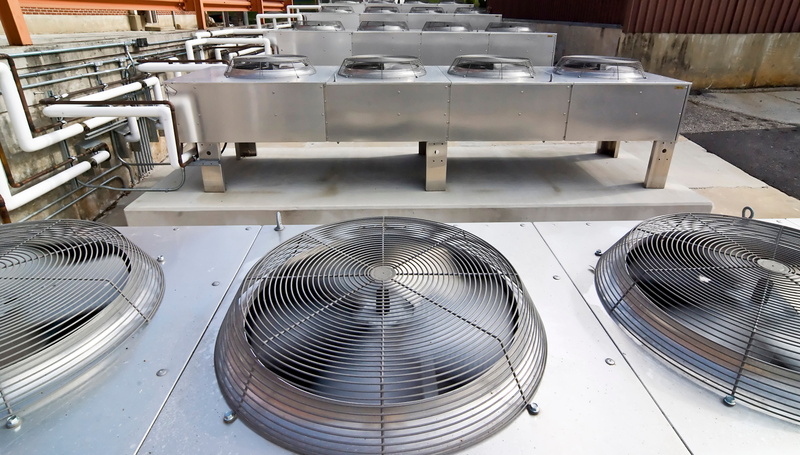 First Choice offers excellent residential air conditioning services, but people may not know we're also skilled with commercial air conditioning in Highland, MI and all throughout the surrounding areas. We want to help your commercial space remains cool through a hot summer so your business stays up and running. A failing air conditioner can mean loss of revenue and overheating equipment.
No service is more important for protecting your commercial air conditioning from summer time problems than regular maintenance.
Commercial Air Conditioning Maintenance
Prevention is the best way to keep emergencies from interfering with the operation of your business. When it comes to the AC system that keeps the workspace cooled down (whether for the comfort of employees and customers or to protect equipment), it's vital for it to receive a pre-summer check-up and tune-up. Here are some of the benefits of keeping up with commercial HVAC maintenance:
Lower bills: You're concerned with the bottom line for your company. A good deal of money goes into the energy that powers the building, and the air conditioning consumes a large chunk of that bill during the summer. If the cooling system isn't given routine cleaning and inspections, it will deteriorate faster and drain more power than necessary. Maintenance keeps your bills lower so you don't pay higher costs than you should.
Stop emergencies: An abrupt air conditioning breakdown during the hottest day of the year (which is when it's most likely to happen due to strain) is a major emergency. It could even mean temporarily shutting down your business until it's fixed. You can rely on us for commercial AC repairs, but we can't be there instantaneously and fix everything in an instant! Regular maintenance reduces the chance of breakdown emergency to almost nothing.
Fewer repairs: No amount of maintenance can prevent all breakdowns, and it can't prevent all malfunctions either. But it does prevent most of them—in fact, around 85% of the repairs a commercial air conditioner may need over its service life are preventable thanks to maintenance. This saves a great deal of time and money.
Longer lifespan: Having to replace all or parts of your HVAC system is expensive. You'll eventually need to do it, but maintenance will help keep your AC running for as long as possible. Without maintenance, you may need to replace the system years earlier.
Warranty protection: Equipment warranty ensures you won't have to pay for repairs or replacements due to factory faults. But to keep the warranty in force requires regular professional maintenance.
Inspections and Tune-Ups Are Simple to Schedule
We know that you're busy overseeing your company from day to day, so we'll make regular HVAC maintenance easy for you. You only have to call to make an appointment for spring HVAC inspections and tune-ups, and we'll take it from there. We've served the area for more than 15 years, and we excel at keeping commercial heating and cooling in top shape.
Contact First Choice Heating & Cooling today to arrange for commercial HVAC maintenance. "If Your Business Had a Voice … It Would Call First Choice!"