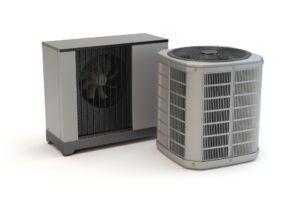 Central air conditioning has been around for a long time, and it's one of the most reliable choices for home cooling for a reason. These machines last 10–15 years, sometimes longer, and simply get the job done. But heat pumps have been stirring the pot lately, so the question is: which machine is better for your home?
With heating and cooling in Fenton, you usually need two different machines. But we're about to explain what heat pumps can do, and whether or not they could even potentially replace your air conditioner.
Heat Pumps Work as a Heater and Air Conditioner
When you install a heat pump, you no longer need your central AC and your furnace. This machine handles both functions in one. While this offers fantastic capabilities, it comes with the suggestion to get twice-yearly maintenance. Once in spring, and once in fall, simply to prepare the other mode for its next major season.
They Save Up to 50% on Cooling Costs
Because heat pumps are wildly efficient at cooling your home, they can often use up to 50% less energy to achieve the same results as your old central air conditioner. While cooling costs aren't the biggest bill you have each month, it's a fair chunk of it. Switching to a heat pump can help you save money every single day.
It Uses Existing Ductwork
Heat pumps aren't as big of a change as switching from central to ductless, where different individual units are installed in various spots throughout your home. You replace your air conditioner with a heat pump, and you're able to use the existing ductwork that your air conditioner was already using, reducing the installation time and cost.
However, They're Not Perfect
While heat pumps are great, let's see if installing one makes more sense for your home and budget than keeping your current AC.
Heat pumps have a higher upfront cost, so while saving money in the long-term is worth it, there's a higher barrier to entry.
They don't handle sub-freezing temperatures as well. This pertains to the heating function, but it's important to know that it can't operate in temperatures as low as furnaces can.
More maintenance. If you can't afford maintenance for your furnace for a little while, but it has a couple of months until you need to fire it up, you can work with that. Your heat pump needs consistent maintenance to prevent problems, so you have to be more rigorous with keeping those maintenance appointments.
Upgrade to a Heat Pump Today
Whether it's because you want to take advantage of government tax incentives for a new system or you're just ready to make the leap to a more powerful system that lowers your energy bills, heat pumps are absolutely an upgrade. While they have their downsides, what HVAC machine doesn't? If you're ready to make the switch today, call us to start the installation process.
Contact us today to schedule your heat pump installation. If your home had a voice … it would call First Choice!