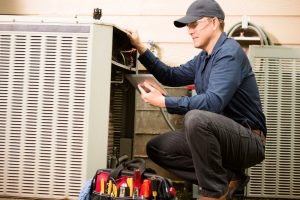 Fall is one of the times when your home's heat pump will get a break. A heat pump works to both heat and cool a house, so between the summer and winter it won't need to work as often. 
But while your heat pump stays dormant for a stretch, we recommend you think about whether it's ready for another round of cold weather. We don't mean scheduling regular maintenance for it: that's something you should do every fall with a heat pump. We mean considering replacing your heat pump because it's past the point where maintenance or repairs are effective. It's always better to replace a failing heat pump before it breaks down completely. That way you can avoid becoming trapped without your central comfort system and paying high costs to run the heat pump during its last year or so.
Signs Your Heat Pump Is Near Its End
What is the best way to tell if you need a heat pump replacement? It's straightforward: call us to arrange for standard fall HVAC maintenance and ask us to inspect the heat pump to see how much longer it will last. We'll offer you an honest opinion that will weigh factors such as energy efficiency and the cost of repairs. 
There are other ways you can tell that it's time to call us to replace your heat pump or give you an opinion about it:
System age:

The average service life of a heat pump is from 10 to 15 years, and we caution people to start looking for signs of decline in their heat pump once it passes 12 years. We don't advise trying to push a heat pump past 15 years.

Frequent repairs:

How often is "too often" when it comes to repairs for a heat pump? A heat pump that needs repairs every year is definitely deteriorating, and repairs more than once a year is putting far too much money into a rapidly failing system. And if any single repair is more than half the cost of replacing the heat pump, go with the replacement, not the repair.

Declining performance:

During the previous summer and winter, did you struggle getting the right comfort in your home? If you noticed hot and cold spots in the room, or you had to fiddle with the thermostat constantly to find the right temperature, then you may have a heat pump in its final year of operation. Unless it's cost-effective to replace it (see above), arrange for a replacement.

High operating costs:

If your heat pump has received regular maintenance, it will retain 95% of its energy efficiency until the last one or two years of its service life. When you start to see a rise in the costs to cool and heat your house, this can mean the heat pump has arrived at those final years. Don't pay more than you have to because of a heat pump that's begging for you to replace it!
First Choice Heating & Cooling serves Fenton, Linden, Holly, and the surrounding areas. If your home had a voice … it would call First Choice.