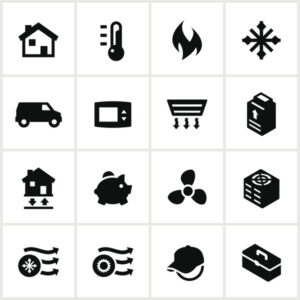 As winter wraps up and people start looking forward to using their air conditioning systems, we recommend homeowners take time to consider their heating. True, you soon won't need to have your heating system running, but spring offers an opportunity to make upgrades, repairs, and even full system replacements to a heater. 
So in this post, we want to help you consider how well your heater performed through the winter it just went through. This can help you decide if you need to call us for critical HVAC service in Brighton, MI during spring, when you can take advantage of the slower schedule for HVAC technicians and the milder weather.
First, Consider Your Heater's Age
The age of a heating system can help determine how heavily to way other performance and efficiency problems. The older the heater, the more serious you should consider other issues, especially increases in energy costs and a rise in the frequency and price of repairs. A natural gas furnace can last about 15 years (if it has received regular maintenance), and an electric furnace can get to around 20 years. Boilers can go from 20 to 30 years. Heat pumps have the lowest life expectancy, from 10 to 15 years. Check on your heating system's main unit to find its manufacture date. If you don't know where to look, call our team for help.
Next, Analyze the Cost to Run the Heater
When a heating system has annual maintenance, you can expect it to only lose about 5% of its total energy efficiency over most of its service life; emphasis on most. That last one to two years of a heater's useful lifespan will often see sharp increases in operating costs. When you notice a steady rise in your winter energy bills that you can't account for with an increase in heater use or a rise in the cost of fuel/electricity, you probably need to replace the heater. For a younger system, we recommend calling us to see what repairs we can do.
Now Think About Repair Frequency
A heating system should not need annual repairs to continue running. That means sinking too much into the system when replacing it makes more economical sense. We also advise you don't spend more than $500 cumulative during a year to keep a heating system running with repairs. These warnings signal the need for an imminent heating replacement.
Finally, Did the Heater Meet Its Comfort Requirements?
Did you constantly have to adjust the thermostat over the winter to find the comfort your family needed? Have cold spots around the house become a bother? Did the winter simply feel colder inside your house than before? If so, take the first step and call us to see if the heater requires repairs. For an older heater, these problems point toward a system in a final decline.
You can trust the First Choice team for honest advice about your heater's future and what we can do in the spring to upgrade/fine-tune your HVAC system. Call today—and ask about your AC maintenance as well, since we'll soon have hotter weather. 
First Choice Heating & Cooling serves Fenton, Linden, Holly, and the surrounding areas. If your home had a voice … it would call First Choice!