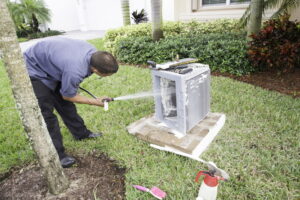 Now that spring has arrived, we want to get the word out to our current and future customers about the importance of preparing air conditioning systems for the approaching warm weather. April (and even May and June) can still contain cold weather surprises, but the AC in a home needs to be prepared for the steady heat that will soon settle in.
You can take several steps to help maintain your home's central air conditioning system, such as changing the HVAC air filter, making sure room vents are unobstructed, and cleaning the outdoor cabinet and clearing the area around it. But you'll also need our help—professional air conditioning maintenance in Flushing, MI is the best way to ensure you have an AC that's "armored up" for the summer heat. A regularly maintained AC will also save you money in multiple ways.
Why You Want to Schedule Annual AC Maintenance
Professional maintenance consists of an extensive tune-up and inspection for your air conditioning system. It takes one to two hours for our technicians to complete, and the rewards are immense. When you have maintenance done each year, you can expect to enjoy these benefits:
Longer system life:

An air conditioner will only make it to its estimated service life (10 to 15 years for most units) with regular maintenance. Missing maintenance will start to take years of its service life, leading to an expensive early replacement.

Reliable summer performance:

Who wants to have their home's AC fail on them during one of the hottest days of the year? The cleanings and adjustments done during maintenance will help an air conditioner run at its most reliable. Maintenance also catches potential problems early enough so our technicians can fix them before they cause the AC to suddenly stop working.

Fewer repairs:

Did you know that the majority of repairs an air conditioner may require over its service life happen because of maintenance neglect? When you keep up with maintenance, you'll wipe away more than 50% of future repairs. That's plenty of money and time saved.

Lower operating costs:

The wear and tear placed on an air conditioner year after year will cause it to lose energy efficiency. As this efficiency drops, the cost to operate the AC rises. Maintenance slows down this deterioration so an air conditioner will cost much less to run until the end of its service life. 

Warranty protection:

Most air conditioners' warranties will only stay in force with proof of regular maintenance. You don't want to lose this important protection against having to pay to repair factory faults. 
Maintenance Is One of the Most Important Services We Offer
We hope we've explained why AC maintenance is such a vital service! We offer an "automatic maintenance program" that makes it easy for you to stay current with tune-ups and inspections for your air conditioner: we'll call you to schedule so you won't have to worry about forgetting, and we'll also give you a 15% discount on repairs. Plus, the price to join the program costs less than paying for individual maintenance visits. Call our team today to enroll and get your next AC maintenance scheduled.
First Choice Heating & Cooling serves Fenton, Linden, Holly, and the surrounding areas. If your home had a voice … it would call First Choice.