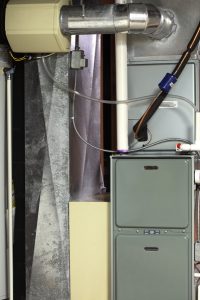 You don't need us to tell you how important a working furnace is in this part of the country. We deal with harsh winters, and they can sometimes stretch into April. A home's furnace is essential for getting a family through even a single day of winter.
But even though you know the importance of your furnace, have you considered skipping out on its regular maintenance for this year? (Or possibly you forgot it needs maintenance at all?)
Please don't do this! Arranging for a professional inspection and tune-up for your gas furnace is easy to do: you only have to call us and schedule a convenient appointment. And there are many risks you'll avoid this way! Below we've listed the problems you'll dodge thanks to fall furnace maintenance:
A sudden heater breakdown
Probably the most important job maintenance does is reduce the strain on a furnace so that it's less likely to run into a catastrophic breakdown. You don't want to be trapped on a cold day with no heating at all, trying to get repairs done at a time when many other homes probably need heating assistance as well. Maintaining the heater right before winter is a great "insurance policy" against this sort of home comfort disaster.
Unnecessary repairs
This is an important statistic to know: 85% of the repairs a heating system may need are preventable thanks to routine maintenance. That's not the majority of repairs you'll prevent; that's almost all of them. You'll not only save money, you'll enjoy more convenience with a furnace that glides through the winter without giving you trouble.
Higher heating bills
Your utility bills go up during winter because of the amount you need to run the furnace. There's no way around that. But those bills will rise much higher if the furnace isn't routinely tune-up and cleaned. On average, a furnace loses 5% of its energy efficiency rating (it's AFUE rating) when it misses maintenance.
Unsafe operation
We could've put this first and not listed anything else, because it's that important. But we wanted you to see the other risks of an unmaintained furnace first. Any gas-powered appliance has the potential to create health hazards because of toxic gas leaks and fires. Although the modern gas furnace is built with safety as the #1 priority, lack of maintenance can lead to a safety precaution failure. So have the furnace inspected and tuned-up each year if for no other reason than to keep you and your family as safe as possible.
Many of our customers have signed up for our "Automatic Maintenance Program." Ask about the details and how it can help you with maintenance for your HVAC equipment around the year.
If you do need furnace repair in Brighton, MI later this winter, you can rely on us to do the work. Our technicians aren't high-pressure sales people. They are focused on getting customers' equipment to work its best and for as long as possible.
First Choice Heating & Cooling serves Fenton, Linden, Holly, and the surrounding areas. If your home had a voice … it would call First Choice!