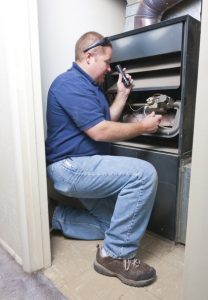 September, when summer officially ends and autumn begins. We know it's hard to say goodbye to summer weather, although fall has its joys. To get the most from the fall and ensure you enjoy a comfortable and worry-free winter, you need to ensure your heating system is ready to get back to work.
In other words, it's time to schedule regular fall maintenance for your heating system.
Yes, this is another item on an already busy fall "to do" list. But it's an important one. Please don't decide you can sit out maintenance this year because the heater is "doing fine." Skipping maintenance for even a single year has consequences, and if you skip it once, you're more likely to skip it again in the future. (You know it's true.)
Reasons Never to Miss Fall Heating Maintenance
We can put together a long list of why heating maintenance is important, enough to fill out a roll of butcher paper. We'll keep it short and direct here:
Safety – Yes, safety first! Most residential heating systems in our area run from natural gas because it's reliable, inexpensive, and delivers high heating levels. But any natural gas system left to slowly deteriorate from use and neglect can create hazardous conditions. Please don't place your family in jeopardy—annual inspections are the best way to keep your heating system operating at the highest safety levels.
Avoid Breakdowns – A busted heating system can turn a pleasant winter day into a nightmare as you attempt to get repairs for the system. Although you can count on us for repair work, you'd much rather not bother in the first place, and maintenance prevents 85% of the repairs a heater may need over its entire service life.
Keep Energy Costs in Check – You expect higher utility bills during winter because of the heating system. A heater without maintenance will push those bills higher and higher each year, until you're paying much more than necessary. Maintenance is an investment in keeping your energy costs within reasonable bounds, saving hundreds of dollars over the service life of the system.
Equipment Longevity: It would be marvelous if a furnace or heat pump worked forever. But no mechanical system is immortal, and eventually you'll have to replace your heater. To ensure you don't need to replace it early—a massive waste of money—always stay current with maintenance. The regular cleaning and tune-ups will help the system reach its maximum service life.
Keep the Warranty Valid – Don't let the warranty on your heater expire early. This important protection from factory faults is only valid if the system has professional maintenance each year.
Even if you end up with a malfunctioning heater this winter, we've got your back. Call us for heating repair in Howell, MI or elsewhere in our service area for effective and speedy service. You can count on us for exceptional work from friendly technicians. We focus on keeping equipment working so our customers don't need to spend money on unnecessary replacements.
First Choice Heating & Cooling serves Fenton, Linden, Holly, and the surrounding areas. If your home had a voice … it would call First Choice!