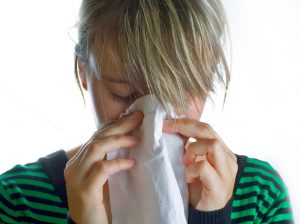 When you run your HVAC system, it circulates air throughout the house, first drawing it in through return air ducts and then sending it back out it the rooms through the supply ducts. During the winter, you'll run the furnace to heat up this air, and that means the effects of the furnace are felt all around the house. So it makes sense that if the furnace isn't working right, it can have an effect on your home's indoor air quality … aside from making it less hot, of course.
Below we'll look at several ways a malfunctioning furnace can have a negative effect on the air quality in your house.
More dust
A furnace can collect dust and other debris over the years that it will send back into your house to circulate. If the furnace has missed its regular maintenance, this problem will get much worse. Not only will the dust lower the air quality in your house, but it will lower the energy efficiency of the furnace and make it more likely for parts to break down.
One particular area of concern is the furnace's filter. This needs to be changed regularly for a clean filter (usually every one to three months) or else it will start to allow dust and debris around it and into the air as well as the furnace.
Increased humidity
If your furnace isn't properly circulating air through your home, it can lead to an increase in humidity in the air. Humidity acts as a magnet for more dust, but its main danger to your air quality is that it allows for the easier development of mold, a major source of indoor air quality problems. If you start to notice water moisture on the inside of windows in your house, you may have a faulty furnace. 
Unhealthy fumes
This is probably the biggest concern people have about furnaces and air quality: worry about combustion by-products getting into the air. Your furnace is designed to vent out these gases through a flue, but if the flue becomes blocked, the toxic gases can start to build up inside your house. A flue can become blocked from the outside of the house from something like an animal's nest, or years of build up inside the flue if the furnace hasn't had routine maintenance. You need to have carbon monoxide detectors inside your house to give you a warning in case this happens.
As you can probably tell from reading these examples, the best way to keep your furnace from creating indoor air quality problems for your home is to have it keep current with maintenance. We can keep your furnace clean and properly ventilated with yearly visits. Whenever you do need furnace repair in Fenton, MI, no matter what's wrong with it, you can always depend on our expert technicians to do the job. We make your home happy!
First Choice Heating & Cooling serves Fenton, Linden, Holly, and the surrounding areas. If your home had a voice … it would call First Choice.