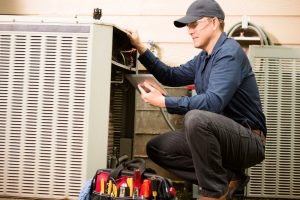 At last we're starting to enjoy warmer weather that says spring is really here, and summer is approaching right behind it. The lingering cold weather may have put your air conditioning system out of your mind, and we can't blame you for not giving must consideration to cooling your house.
But now it's time to focus on the coming warm weather and ensuring your AC can do the best job through the middle of the year, and without you needing to call for repairs.
But there's no way to prevent repairs 100%, right?
That's right, there can never be any guarantee for any mechanical device to work without any faults. But you can prevent the majority of problems with planning and proper care. When it comes to your air conditioning system, planning and care means arranging for maintenance (a tune-up and inspection) from qualified HVAC professionals.